oggi vi presento una carrellata di uscite della giornata. Tutti i libri escono esclusivamente in lingua originale tuttavia ci sono alcuni nomi noti anche in Italia e per chi di voi legge in lingua, magari, potrebbero essere inseriti nella vostra tbr.
The Confusion of Languages
di Siobhan Fallon
€ 14,84 (ebook) € 25,26 (cartaceo)
In uscita oggi, 27 giugno 2017
Both Cassie Hugo and Margaret Brickshaw dutifully followed their soldier husbands to the U.S. embassy in Jordan, but that's about all the women have in common. After two years, Cassie's become an expert on the rules, but newly arrived Margaret sees only her chance to explore. So when a fender-bender sends Margaret to the local police station, Cassie reluctantly agrees to watch Margaret's toddler son. But as the hours pass, Cassie's boredom and frustration turn to fear: Why isn't Margaret answering her phone, and why is it taking so long to sort out a routine accident? Snooping around Margaret's apartment, Cassie begins to question not only her friend's whereabouts but also her own role in Margaret's disappearance.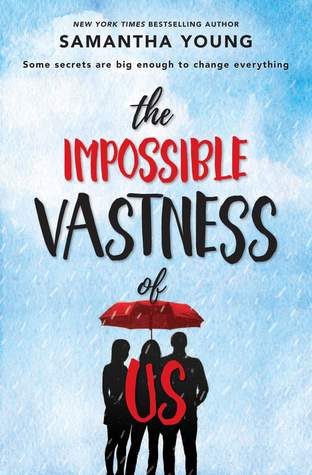 The Impossible Vastness of Us
di Samantha Young
Harlequin Teen
€ 8,32 (ebook)
Amazon

|

Goodreads
In uscita oggi, 27 giugno 2017
India Maxwell hasn't just moved across the country — she's plummeted to the bottom rung of the social ladder. It's taken years to cover the mess of her home life with a veneer of popularity. Now she's living in one of Boston's wealthiest neighborhoods with her mom's fiancé and his daughter, Eloise. Thanks to her soon-to-be stepsister's clique of friends, including Eloise's gorgeous, arrogant boyfriend Finn, India feels like the one thing she hoped never to be seen as again: trash.

But India's not alone in struggling to control the secrets of her past. Eloise and Finn, the school's golden couple, aren't all they seem to be. In fact, everyone's life is infinitely more complex than it first appears. And as India grows closer to Finn and befriends Eloise, threatening the facades that hold them together, what's left are truths that are brutal, beautiful, and big enough to change them forever…
Midnight Jewel (The Glittering Court, #2)
di Richelle Mead
Razorbill
€ 7,99 (ebook) € 17,48 (cartaceo)
Amazon

|

Goodreads
In uscita oggi, 27 giugno 2017
A refugee of war, Mira was cast out of her home country and thrust into another, where the conditions were inhospitable at best. In a life-altering twist of fate, she is given the chance to escape once more, and she takes it, joining the Glittering Court.

Both a school and a business venture, the Glittering Court is designed to transform impoverished girls into upper-class ladies who appear destined for powerful and wealthy marriages in the New World. There, Mira finds herself subjected to persecution, not only from her fellow Glittering Court jewels, but from her suitors, as well — men she would potentially be expected to give her life to.

By day, she goes through the motions, learning the etiquette and customs that will help to earn her anonymity, even making a couple true friends in the process, the forthright ladies' maid Adelaide and the ambitious laundress Tamsin. But by night, Mira hatches a different plan entirely — one that, if exposed, could get her hanged in the highest court of Adoria.
Until It Fades
di K.A. Tucker
Atria Books
€ 9,99 (ebook) € 15,54 (cartaceo)
Amazon

|

Goodreads
In uscita oggi, 27 giugno 2017
Twenty-four-year-old truck stop waitress and single mother Catherine Wright has simple goals: to give her five-year-old daughter a happy life and to never again be the talk of the town in Balsam, Pennsylvania (population three thousand outside of tourist season).

And then one foggy night, on a lonely road back from another failed date, Catherine saves a man's life. It isn't until after the police have arrived that Catherine realizes exactly who it is she has rescued: Brett Madden, hockey icon and media darling.

Catherine has already had her fifteen minutes of fame and the last thing she wants is to have her past dragged back into the spotlight, only this time on a national stage. So she hides her identity. It works. For a time.

But when she finds the man she saved standing on her doorstep, desperate to thank her, all that changes. There's an immediate connection, and it's more electric than the bond of two people who endured a traumatic event. It's something neither of them expected. Something that Catherine isn't sure she can handle; something she is afraid to trust.

Because how long can an extraordinary man like Brett be interested in an ordinary woman like Catherine...before the spark fades?
Spoonbenders
di Daryl Gregory
Publishing Group
€ 8,49 (ebook) € 17,97 (cartaceo)
Amazon

|

Goodreads
In uscita oggi, 27 giugno 2017
The Telemachus family is known for performing inexplicable feats on talk shows and late-night television. Teddy, a master conman, heads up a clan who possess gifts he only fakes: there's Maureen, who can astral project; Irene, the human lie detector; Frankie, gifted with telekinesis; and Buddy, the clairvoyant. But when, one night, the magic fails to materialize, the family withdraws to Chicago where they live in shame for years. Until: As they find themselves facing a troika of threats (CIA, mafia, unrelenting skeptic), Matty, grandson of the family patriarch, discovers a bit of the old Telemachus magic in himself. Now, they must put past obstacles behind them and unite like never before. But will it be enough to bring The Amazing Telemachus Family back to its amazing life?
............................................................................
Cosa ne pensate di questi romanzi?
C'è qualche libro che vi interessa leggere?
Fatemi sapere,
Leen